GENERAL ENTERTAINMENT AND MANAGEMENT
PRESENTS
GERRY MOSS
************************************
BB King with Gerry Moss (far right) and the Famous Unknowns. 
The Famous Unknowns  was the first house band at BB King's club in Memphis.   
The passing of BB King leaves a large hole in our hearts. 
Rest in peace, BB.  We'll miss you dearly.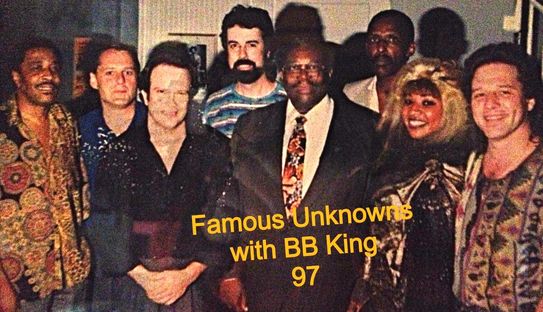 Interesting how life at times seems like chapters in a book.
Being at the right place at the right time in this instance at BB Kings during the Famous Unknowns period in the 90's 
Paul McCartney was playing Memphis and his band shows up at BB'a where we were playing wanting to set in .  Surreal musical experience to say the least ..Super nice guys.  Not pictured Stuart Hamish former member of average white band also sat in that night. 
The kicker was Paul Wix showed us his appreciation saying there will be VIP seats for your band at the McCartney concert if you wish to attend.  Stupid me almost didn't go but last minute decision proved to be a good one .. Amazing concert.   Like I said right place right time can be a surprising and lasting memory.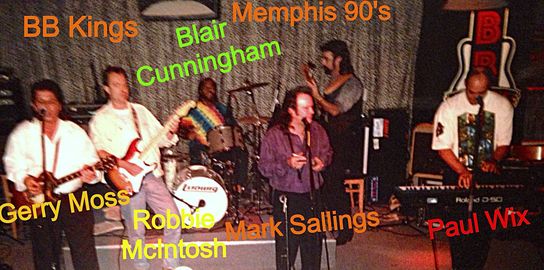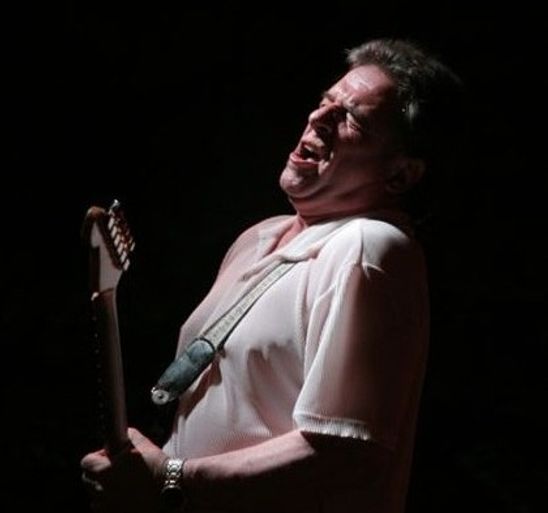 Gerry Has Performed With The Best 
Gerry has opened for Edgar Winter, Leon Russell, Richie Havens, Dwight Yokum and the Oak Ridge Boys.  He has performed on the same stage as the Judds, Randy Travis, Charlie Pride,  Hank Williams, Jr., Willie Nelson, George Jones, Merle Haggard,
He has played with Joe Walsh, The Gatlin Bros., Steve Winwood, Johnny Winter, Buddy Guy, Rufus Thomas, Johnny Rivers, Mose Allison, Albert King,  Gary Busey, Albert Collins, Bobby "Blue" Bland, and the McCartney Band (sans Paul), and Clint Black's band.    
Gerry also played bass and guitar for Lloyd Price and was the band leader for David Lynn Jones. 
Gerry's band, TheFamous Unknowns, was the house band for BB King at his club in Nashville.  He played in front of and for Albert King at Blues City Café in Nashville, across the street from BB King's, including Albert's last birthday party before he passed away. 
Gerry has performed in front of , Buddy Guy (who incidentally played Gerry's 1958 Stratocaster after a Handy Awards Show in Memphis).  The Handy Awards have since been renamed "The Blues Music Awards" and are presented by the Blues Foundation, a non-profit organization set up to foster blues heritage.  The awards, started in 1980, are according to Offbeat music magazine "universally recognized as the highest accolade afforded musicians and songwriters in blues music."
While The Nashville Network was in its fledgling stage, Gerry appeared on the New Country show and Nashville Now show with Johnny Lee (of Looking For Love fame) and David Lynn Jones.  Nashville Now was hosted by Ralph Emery. 
Gerry also appeared on New Country with great musician/singer/songwriter, Jim Collins who has since scored several top hits. 
In addition to guitar, he is accomplished on banjo, mandolin, bass guitar, dobro guitar, and keyboards. 
 Everywhere Gerry has resided, he has contributed to the community by giving music lessons.  His students range from beginners to intermediate, teenagers to adults, airline pilots to CEO's.  
Blues Man - Gerry Moss - Performs As:
- Solo artist self accompanied on guitar.
- 4 piece electric band called "MOSSMAN" (Gerry Moss-guitar, Paul Hughes-guitar, Jerry Bone-bass, John Ware-drums).
- Gerry also performed, until recently, with two different bands on a regular basis known as the RED BARN RAMBLERS and RECKLESS RED.  
Vsit the "Video & LInks" and "Music" tabs to see and hear more.  Also visit the "Photos" tab.
Make arrangements to have GERRY MOSS perform at your upcoming event.  Book as far in advance as possible.  To inquire about booking Gerry Moss, click HERE. 
Producer & Recording Engineer:
Gerry Moss is an experienced and highly accomplished recording producer and engineer. 
Gerry produced and engineered his entire Nickel's 'n Dimes CD.  Check it out on the "MUSIC" page of this site.
Gerry also produced and engineered the Maiden Voyage CD by The Mike Gray Band.  On this CD, Gerry plays piano, organ, slide guitar, acoustic guitar, and sings background vocals.  Check it out on the "MUSIC" page of this site. 
To inquire about Gerry's availability to produce and/or engineer your recording projects click HERE.        
Hire Gerry Moss to assist you with your music projects.  Producing, writing, arranging, musician --- whatever your needs may be.   
  Webmaster:  General Entertainment & Management